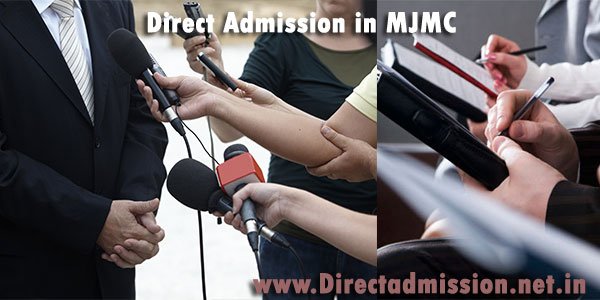 Direct Admission in MJMC: Eligibility Criteria, Required Skill
Master of Journalism & Mass Communication (MJMC) is a postgraduate mass communication course of two years duration. The course involves the study of various forms of big media including newspapers, radio, television, films, etc., so as to convey information to a large audience. MJMC course helps students to provide advance theoretical and applied knowledge in various media professions such as journalism, advertising, event management, public relations, etc. The MJMC syllabus also serves as a base for candidates who want to pursue a career in research. Know what all MJMC syllabus says in terms of syllabus, top recruiters, job profiles etc.
Required Skillset for MJMC
MJMC candidates must have the skills to make a successful career in the field of journalism and mass communication:
Direct Admission in MJMC Skillset for MJMC Candidates

Good flair of the language
Excellent communication skills
High level of confidence
Attention to detail
Problem-solving skills
Ability to work under stringent deadlines
Ability to work under rough conditions
Good observation skills
Ability to express ideas and thoughts clearly
Ability to present information in an effective manner
Good interviewing skills
Great networking skills
MJMC: Eligibility Criteria
The basic eligibility criteria to pursue Journalism and Mass Communication course are given below:
Candidates should have a Bachelor's degree from a recognized institute or university
Candidates should score a minimum total percentage (usually 50% -60%) as in the university they are applying to Sometimes, candidates holding postgraduate degrees are also eligible to apply for the course
Sometimes candidates with a strong grip on English are preferred at the time of admission
Note: MJMC eligibility criteria mentioned above might vary depending on the college/ university in which a candidate is applying.
Course curriculum for MJMC
As stated earlier, the MJMC is a two-year duration course which is usually divided into four semesters. Although the MJMC curriculum varies from institution to institution, below are the semester-wise core subjects (theory as well as practical) commonly taught in the Master of Journalism and Mass Communication:
MJMC Course Syllabus Semester-I

Semester-I

Communication Theory and Practice
Global Media & Inter-Cultural Communication
Environment & Development Communication
Print Media & New Media
History of Indian Media
Research Methodology for Communication and Media Research
Contemporary Media Scenario
Print Journalism and Writing for Media
Photography, Videography and Audiography
Cultural Education
Graphic Design Lab
Photography Lab
Videography Lab
Audiography Lab
Print Journalism and Writing Practice
–

MJMC Course Syllabus Semester-II

Semester-II

Business Media
Broadcast Media & Journalism
Media Research Methods
Media Management
Principles of Advertising & Public Relation
Film Studies
Media Ethics and Laws
Short Film Production (Fiction & Documentary)
Digital Video Editing Lab
Short Film Production (Fiction and Documentary) Lab

MJMC Course Syllabus Semester-III

Semester-III

Media Content Writing (English/ Hindi)
Film Appreciation & Criticism
Communication for Development
New Media and Web Content
Online Journalism
Public Relations Theory
Public Relations Campaigns Practical
Critical Viewing and Reading Analysis Practice
Basics of Audio and Video Production
Key Texts in Visual Media
Reporting, Editing and Lab Journal
New Media and Web Content Lab
Internship Training and Report Presentation
News Casting, Anchoring and Program
Presentation Skills
Video News Production with Project

MJMC Course Syllabus Semester-IV

Semester-IV

Internship
Dissertation and Viva Voce
Project Work
–
It may be noted that apart from core subjects, MJMC course curriculum also includes some elective subjects that are to be chosen by candidates. Have a look at some of the elective subjects of MJMC course below:
Optional syllabus

Political Communication
Creative Communication
Global Communication
Television News and Studio Production
Television News & Studio Production
Basics of Audio and Video Production
Organizational Communication
Web Design and Production
History of World and Indian Cinema
Radio News and Studio Production
Brand Planning and Management
Print Journalism
Advertising
Science Communication
Photo Journalism
Creative Expression in Regional Language
Foreign language
Creative Writing
Instrumental Music
Marketing Management
Micro Economics
Statistical Analysis
Design Studies
Culture Studies
Theatre Studies
Business Ethics
Web Technologies and E-Commerce
Computer Hardware and Networking
MJMC: Job Profiles & Top Recruiters
MJMC degree candidates can secure promising jobs in various fields of media such as advertising agencies, photography companies, broadcasting companies, magazines and magazines, news agencies, public relations organizations, TV channels, radio telecasting companies, websites, and the like. Following are some popular job profiles for candidates who successfully complete the MJMC course:
Correspondent: A reporter is an on-the-scene reporter or a journalist who contributes reports on a newspaper, radio, television, or the Internet.
Art director: An art director is a professional who is responsible for the visual aspects of an advertisement or media campaign.
Photographer: A photographer is a professional who blends his creativity and technical skills to click photographs of people, places, landscapes, food and more. etc.
Cartoonist: As the name suggests, a cartoonist creates cartoon illustrations that can be humorous, political or editorial in nature.
Content Writer: A content writer produces a variety of content from web to articles and reviews to game scripts.
Editor: An editor is responsible for examining the style and content of a publication.
Film director: A film director is a person who controls the artistic and dramatic aspects of a film and observes its script, guiding the technical crew and actors in the completeness of that scene.
Public Relations Officer: A PR officer has the responsibility of using a wide range of media to maintain a good image for a company or brand through planned promotional campaigns and PR activities.
Radio Jockey: An RJ plays music, conducts interviews and discusses with listeners on the radio.
Video Jockey: A VJ has primary responsibility for presenting music videos and hosting concerts for electronic and social media as well as public works.
Some of the top recruiters for MJMC candidates include:
Top Recruiters for MJMC Candidates

Times of India Group
India Today Group
Hindustan Times
Indian Express
Anand Bazar Patrika
Zee Entertainment Enterprise
Doordarshan
Network 18
NDTV
Sahara One Media & Entertainment Limited
Balaji Telefilms Limited
Wizcraft Entertainment
Percept Limited
DNA Entertainment Networks
Cox & Kings
Cineyug Entertainments